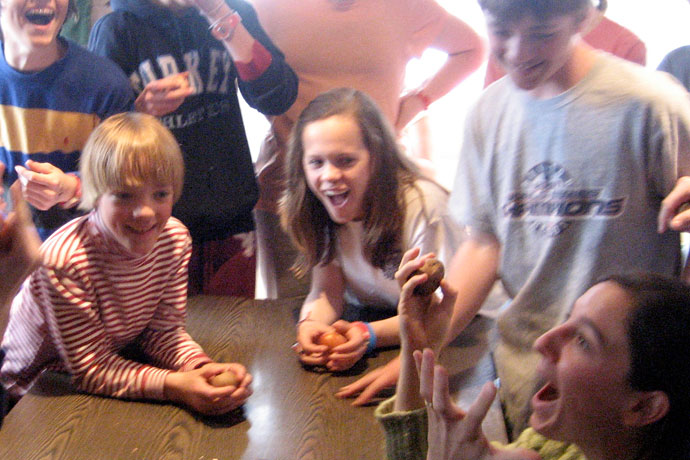 The Winter Term | FAQ
FAQ
1. What is the WT looking for in a prospective student?
2. How much do students ski and how is it organized?
3. Where do WT'ers come from?
4. Is The Winter Term better as a 7th grader or as an 8th grader (UK Year 8 or 9)?
1.The Winter Term looks for strong students for whom the prospect of spending 11 weeks in a unique, compelling, and challenging setting is appealing. The Winter Term seeks to provide a positive and out-of-the-ordinary experience that will have lasting impact. Students who are prepared to give their 'best selves' to their peers and to the program will create the meaningful experience that over twenty years of Winter Term students have achieved. Each year's experience depends on the overall qualityand attitude of the incoming students, and we review each application with this in mind.
2. The Winter Term accepts students of all skiing levels - from rank beginners who have never put on a ski boot to advanced skiers. Our snow sports program consists of four to five afternoon ski lessons with a Swiss Ski Instructor each week and structured free skiing in groups on the weekend, once proficiency and familiarity with the local terrain is demonstrated. The program focuses on the mechanics of Alpine skiing and ski racing, however all students are encouraged to try cross-country skiing, as well. The ski groups are arranged by ability level, and all students are observed each week for improvements so that the groupings keep current. All Winter Termers are instructed following the Swiss Ski School guidelines.
3. Winter Termers hail from a wide geographic area. We commonly welcome students from the USA, the U.K., South Africa, Australia, Canada, Bermuda. Most of our students have historically come from native English speaking countries, however we often also welcome students from other countries who demonstrate a good command of English and otherwise submit a strong application.
4. The question of whether 7th or 8th grade is the best choice has several aspects. Generally speaking, The Winter Term enrolls 2/3 of its students as 8th graders (13 or 14 years old) and 1/3 of its students as 7th graders (12 or 13 years old). In our experience, we have never had reason to doubt the admission of a 7th grader and generally feel that if he or she feels ready to come in 7th grade, that is a very good choice.
Reasons for coming in 7th:
- it is usually easier to disengage from the social scene at home, which tends to be less intense than it is a year later;
- if the student is attending a school that ends with eighth grade, he or she might find it awkward to miss 1/3rd of this final year;
- students will have an additional year to make use of what they have acquired from their WT experience.
Reasons for coming in 8th grade:
- students a year more mature and might possibly be in a better position to absorb the foreign culture and learning opportunities they find around them;
- with this additional maturity, students might feel more comfortable with the idea of leaving home for three months. Once here, though, homesickness tends not to be an issue when students are surrounded by so many new and close friends.